Episodes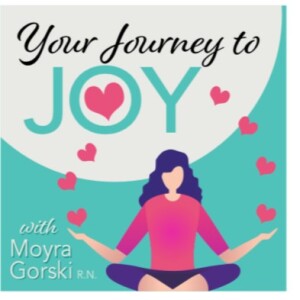 Wednesday Sep 13, 2023
Wednesday Sep 13, 2023
In this episode of the "Your Journey to Joy" podcast, host Moyra Gorski is joined by guest Gayle Keller. They reminisce about their shared experience of attending Glenbard West High School and discuss their mission to help women find joy in their lives. 
Moyra and Gayle have a lively discussion and  emphasize the importance of taking calculated risks and providing tangible tools and takeaways for women to achieve success.
Together, they explore ways to overcome life challenges, stay healthy, and find joy in the midst of chaos. Join Moyra and Gayle on this journey to discover the joyful life you deserve.
You can find more about Gayle , her podcast and books here.
[00:00:13] Taking calculated risks in life.
[00:04:29] Allyship and STEAM
[00:08:58] Women in STEM and STEAM.
[00:12:49] Respect and kindness.
[00:15:49] Broken rungs on the ladder.
[00:19:28] Gender gap and financial control.
[00:22:13] Women's progress and equality.
[00:27:33] Dealing with failure and positivity.
[00:29:34] Wellness and trusted circles.
[00:33:08] The five pillar methodology.
[00:38:07] Sexual harassment experiences.
[00:42:42] Bank Code and Communication.
[00:44:17] Embracing Differences in Relationships.
[00:48:30] Finding more joy each day.
------------------------------
Grab your Mind, Body and Spirit Wellness guide here.
Check out my journal today. Purchase your own Journey to Joy Journal . 
Book your Find your JOY discovery call here. 
Reach out to me @ moyra@moyragorski.com 
I offer my years of expertise and knowledge to help you find steps to a healthier life. 
Like, share and write a 5 star review on Podbean or Itunes.  
 Instagram as https://www.instagram.com/greengorski/
Buy me a cup of coffee here. https://www.buymeacoffee.com/juggling