Episodes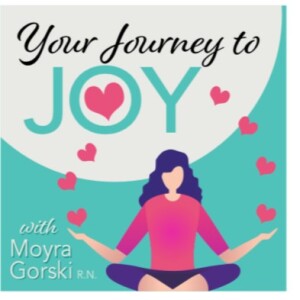 Sunday Jul 16, 2023
Sunday Jul 16, 2023
In this episode of the Journey to Joy podcast, host Moyra Gorski discusses the importance of clearing obstacles in order to find joy in life.
Drawing from her own experiences as a retired nurse, multi-passionate entrepreneur, and mother of four, Moyra shares her insights on how to overcome challenges and cultivate a joyful mindset.
She encourages listeners to support and uplift one another on this journey to joy, and emphasizes the value of learning and growing together.
Moyra shares a quote from John Gordon's book "The One Truth," which states that although there is a lot of noise in the world, it holds no power over us. The key is to shift our focus from external factors to our internal selves. By prioritizing our own personal growth and development, we can contribute to creating a positive and joyful world.
Tune in to gain inspiration and practical tips for finding joy amidst the chaos of life.
----------
Grab your Mind, Body and Spirit Wellness guide here.
Check out my journal today. Purchase your own Journey to Joy Journal . 
Book your Find your JOY discovery call here. 
Reach out to me @ moyra@moyragorski.com 
I offer my years of expertise and knowledge to help you find steps to a healthier life. 
Like, share and write a 5 star review on Podbean or Itunes.  
 Instagram as https://www.instagram.com/greengorski/
Buy me a cup of coffee here. https://www.buymeacoffee.com/juggling