Episodes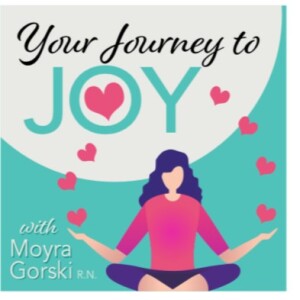 Friday Oct 20, 2023
Friday Oct 20, 2023
In this episode of the "Your Journey to Joy" podcast, host Moyra  welcomes guest Deb Porter to share her inspiring story.
Both Moyra and Deb have experienced being caregivers for loved ones, and Deb has learned valuable lessons from that experience. One of the key lessons she shares is the power of listening.
Deb emphasizes the importance of truly hearing others and highlights how often the world falls short in this aspect. Tune in to discover more about Deb's journey and how listening can bring joy to our lives.
Deb is an incredible human who is passionate about listening. She is all about cultivating healthy communication and relationships in business and life. You can find her on here site: https://www.hearingoutlifedrama.com/
[00:01:51] The power of listening.
[00:04:20] Marriage dissolution after illness.
[00:08:33] Losing connection and grieving.
[00:12:58] HOLD - Holding space for listening.
[00:15:07] Emptying emotional buckets.
[00:18:29] Setting boundaries in conversations.
[00:23:03] The act of listening.
[00:26:09] Emotional intelligence and listening.
[00:31:23] Caregiving and health impact.
[00:33:20] Adrenal fatigue and stress.
[00:36:51] Let's slow down a little bit.
--------------------------------------------------
Grab your Mind, Body and Spirit Wellness guide here.
Check out my journal today. Purchase your own Journey to Joy Journal . 
Book your Find your JOY discovery call here. 
Reach out to me @ moyra@moyragorski.com 
I offer my years of expertise and knowledge to help you find steps to a healthier life. 
Like, share and write a 5 star review on Podbean or Itunes.  
 Instagram as https://www.instagram.com/greengorski/