Episodes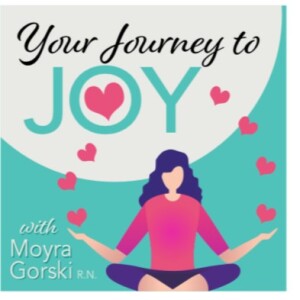 Tuesday Oct 10, 2023
Tuesday Oct 10, 2023
In this episode of the "Your Journey to Joy" podcast, host Moyra  introduces her guest, Jacy, who was connected to her through her daughter who found Jacy on social media. Jacy is a poet and author of a poetry book that he wrote about his Eating Disorder. T
hey discuss Jacy's journey of self-acceptance and self-love, highlighting the shift from negative self-talk to nurturing his spirit. Moyra emphasizes the importance of finding joy in the chaos of life and shares inspiring stories of overcoming challenges. 
Jacy's book of incredible poetry can be found here called "To my Eating Disorder " by Jacy Kirby
--------------------------------------------------
Grab your Mind, Body and Spirit Wellness guide here.
Check out my journal today. Purchase your own Journey to Joy Journal . 
Book your Find your JOY discovery call here. 
Reach out to me @ moyra@moyragorski.com 
I offer my years of expertise and knowledge to help you find steps to a healthier life. 
Like, share and write a 5 star review on Podbean or Itunes.  
 Instagram as https://www.instagram.com/greengorski/
Buy me a cup of coffee here. https://www.buymeacoffee.com/juggling
00:00:02 Acceptance and self-love lead to growth.
00:05:32 Struggling with body image and identity.
00:12:39 Importance of seeking treatment.
00:18:10 Importance of holistic health approach.
00:21:22 Shift mindset about exercise.
00:28:20 Strength training promotes self-sufficiency.
00:31:17 Journaling is beneficial for self-reflection.
00:37:11 Focus on the present moment.
00:42:06 Recovery and growth are subjective.