Episodes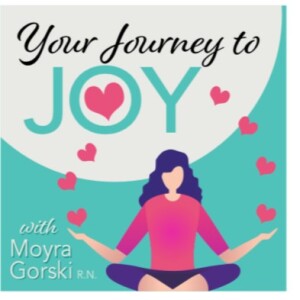 Friday Nov 04, 2022
Friday Nov 04, 2022
I had the privilege to connect with Elizabeth on Linked in. Her Joy let loose attitude attracted me. I am sure glad we connected. 
Listen in for a treat today. 
Elizabeth talks about her own journey to Joy and why she is so passionate about helping women let their joy loose 
A few tidbits: 
Joy in NOT dependent on your circumstances. 
Lean into your purpose
When we intentionally align with God's purposes, we build more joyful lives.
You are going to love this conversation that we had. 
Find Elizabeth on her website here. https://elizabethrhyno.com/
And also on Linked in. https://www.linkedin.com/in/elizabeth-rhyno-life-coach/
------------------------
If you are ready to journal your way to more joy, check out my journal today. Purchase your own Journey to Joy Journal . 
Need a little extra help ? 
I offer FREE consultations. Let's connect .
Reach out to me @ moyra@moyragorski.com 
I offer my years of expertise and knowledge to help you find steps to a healthier life. 
Continue to support by liking, sharing and writing a 5 star review on Podbean or Itunes.  
Find me over on Instagram as https://www.instagram.com/greengorski/
Join my group on Facebook too, the Juggling the Chaos Podcast tribe 
Buy me a cup of coffee here. https://www.buymeacoffee.com/juggling